Our Own Candle Company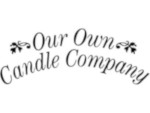 This American company was started to provide a product for the ultimate candle lover who is always looking for that perfect candle. One that lasts a long time, has a great scent that carries throughout the entire room, and leaves no wax buildup. The key motives are, affordability, large varieties of scent and quality. They started from scratch experimenting to discover the best ways to pour, cool and have even patented their wick straighter. This keeps the wick centered for a better safer burn.
No products were found matching your selection.